Tech Helps Joint Custody – @2houses_com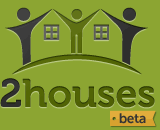 Technology That Helps Joint Custody
Do you or someone you know have joint physical custody or visitations of a child? If you fall into this category, then you know that communication is important to joint physical custody. A misunderstanding as to the pickup time or location is not only inconvenient for the parties, but also causes unnecessary anxiety for the child(ren). One parent not receiving important medical information or phone numbers from the other parent will have a negative impact on the child and cause tension between the parties. One strategy to minimize any confusion is the use of technology. No, I do not mean the phone or e-mail, but rather a new website called www.2houses.com. 2houses.com "helps separated parents to communicate and get organized about their children." Continue reading to learn about the website's benefits.
Calendar
2houses.com has a calendar that helps parents create and remember the visitation schedule. The calendar allows both parents to update the calendar. The calendar allows the parties to set the visitations for each child in case both children do not have the same visitation schedule. A second feature allows the parties to post any activity that would necessitate the need to modify the regular parenting schedule. The final feature is called "Change Request." This allows one party to request a change and the other party has the option of accepting to modify the parenting schedule or declining the requested modification.
A major benefit of the calendar allows both parents to have one schedule located in an easily accessible place. This should minimize arguments about whose turn it is for parenting time.
Information Bank
A common reason for divorce is a breakdown in communication. It may be unrealistic to expect divorced / separated parents to be good at communicating with each other. The site has an information bank that allows the parties to store important addresses, financial information and medical information. The idea is that if everything is stored in one place, it will be easier for the parties to communicate with each other.
Expenses
Separated parents know that keeping track of child related expenses that are to be reimbursed by the other parent is challenging. 2houses.com has the ability for each parent to input the child related expenses and to document payments to the other parent. Having all the financial information in one place helps lessen the chance that sharing child related expenses will lead to a conflict.