Obama & Gay Rights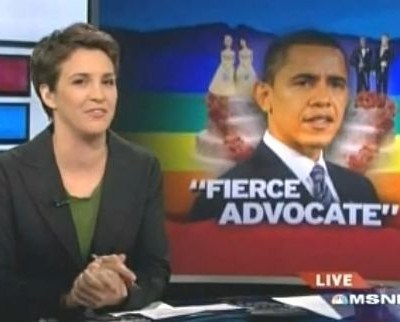 In 1996, the federal government passed the Defense of Marriage Act (DOMA). DOMA bars the Federal Government's recognition of same-sex marriages. Barack Obama has made it clear that he supports homosexuals right to fight openly in the military and their right to have civil-unions. He has even stated that DOMA is discriminatory, but still contends that it is the legislatures job to repeal DOMA. Currently, two cases are working themselves through the court system and the Department of Justice (DOJ) is going to have the opportunity to provide the court with the administration's opinion as to what legal standard of review should be applied to DOMA.
In July 2010, Judge Joseph L. Tauro of the United States District Court in Boston ruled that DOMA was unconstitutional. Although the Obama administration has publicly stated that DOMA should be repealed, the DOJ appealed Judge Tauro's ruling. In defending the appeal, the DOJ did not have to state what level of scrutiny should be applied because there is legal precedent in the United States District Court in Boston that the rational scrutiny review standard should be applied to anti gay rights legislation.
At this point you may be asking yourself what does rational scrutiny review mean? For DOMA purposes, there are two legal standards that test whether a law is constitutional: rational and strict scrutiny review. Rational scrutiny review means that the burden of persuasion is on the plaintiff to show that the law being challenged is not rationally related to any legitimate government interest. Strict scrutiny review means that the burden of persuasion is on the DOJ to prove that the measure being challenged is necessary to further a compelling interest.
As reported in the New York Times on January 28, 2011, the two lawsuits were filed in United States District Courts located in the jurisdiction of the United States Appeals Court in New York. This jurisdiction does not have a precedent for which standard of review to apply. If Obama wants DOMA overturned, then the DOJ can suggest that strict scrutiny review should apply, since the burden of proof is a lot higher than rational scrutiny review. On the other hand, Obama may continue to cite persuasive precedent from other jurisdictions in order to uphold the law.
Regardless, in Massachusetts gay marriage is still legal and Goodridge is still good law. People's antennas will be heightened over the next couple months to see what strategy the DOJ uses for defending these two cases.
Contact us for divorce-related advice.